Prevost has been providing specialist compressed air solutions for over 40 years. Their incredible range of compressed air & fluid distribution products covers a wide range of applications including Automotive, Textiles, Wood Working, Food Processing & Construction.
PPS1 - Prevost's Aluminium Air Pipe & Fittings
The Prevost air pipe is made from high-quality aluminium, is lightweight & is simple to install. It is resistant to both heat & UV and does not require a fire permit for installation. The smooth internal surface of Prevost's aluminium air pipe ensures minimal pressure loss. The pipe is available in 3 colours/applications; Blue (Compressed Air), Grey (Vaccum) & Green (Nitrogen).

Air Pipe Technical Specification:
Material: Extruded Aluminium (Alloy EN AW 6060 t6 UNI-EN 573-3)
Coating: Electrostatic paint
Compatible fluids: Compressed air, vacuum, neutral gases
Pipe lengths: 4 or 5.5 metres
Density: 2.7 kg/dm³
Pipe outside diameter: 16, 20, 25, 32, 40, 50, 63, 80, 100 mm
Prevost air fittings are constructed from 100% aluminium & feature a stainless steel grip ring and a double-lobed lubricated seal to guarantee a secure connection. Prevost compressed air fittings are easy to install and require no specialist tools.

Fittings Technical Specification:
Material: 100% Aluminium
Maximum operating pressure: 16 bar
Identification: Fitting shows diameter, manufactured date, pressure rating & positioning
Grip concept: Stainless Steel ring of teeth grips to pipe for a leakproof seal
Range: Full range of fittings, valves and flanges
Available sizes: 16, 20, 25, 32, 40, 50, 63, 80 & 100 mm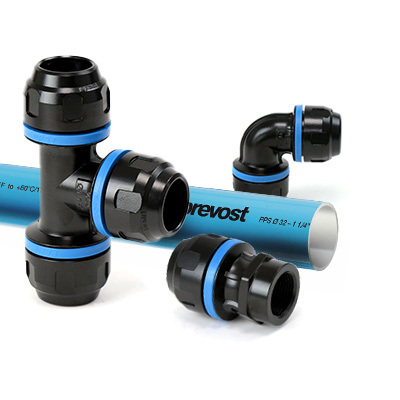 Prevost Air Couplings
Prevost air couplers are constructed from Steel or Aluminium with either a composite polymer or Stainless Steel body. The composite polymer body ensures delicate surfaces are not scratched or damaged. Prevost air couplings are anti-static which enables them to be used in class 1 and 2 (gas) & 21 and 22 (dust) ATEX zones.
Quick Safety Air Couplings Technical Specification:
Profiles: British, Euro, ISO 6150 B & C, Truflate
Construction: Composite or Stainless Steel body
Operating temperature: -15˚C to +70˚C
Connection: Push-fit & one button push to disconnect
Anti-static: ATEX approved
Pressure rating: 2 to 12 bar (not suitable for vacuum
Prevost Blow Guns
Prevost's air blow guns are available in a variety of nozzle styles to suit many applications and standards including metal, composite, silent, protective air curtains, OSHA approved and pocket models. They feature an embedded plug for safer and leakproof operation.


Compressed Air Blow Guns Technical Specification:
Profiles: British, Euro, ISO 6150 B & C, Truflate
Material: Polyamide Composite
Recommended Pressure: 6 bar
Maximum operating pressure: 12 bar
Operating temperature: -15˚C to +70˚C
Plug: Embedded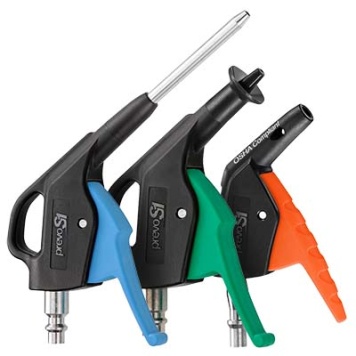 If you require any further information, our excellent customer service team is here to help so please call us on 01794 835835.