Manual Flow Control Elbow Uni-directional Metric
Useful Information
All text and product images are the intellectual property and copyright of Pipestock Limited
Key Features / Tech Specs:
Material: Nickel Plated Brass

Media: Air and Vacuum Only

Metric Male Thread

Max. Pressure 10 bar

Operating Temperature: 0°C to +60°C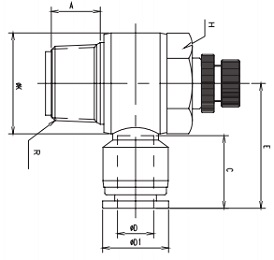 IMPORTANT: The technical data given on this website is for preliminary information purposes only and is published without guarantee. All line drawings are for illustrative purposes only and should not be regarded as wholly accurate in every detail. We reserve the right to withdraw or to alter the specification of any product without notice. For more information, please consult our Terms of Business.
Useful Info:
One-touch fittings provide convenient instant connection and disconnection with no tools required.
Fittings are precoated with Teflon sealant.
Nickel-plated brass fittings ensure long product life.
If you require any further information then don't hesitate to ring us here at Pipestock on 0845 634 1053. We're always happy to help!